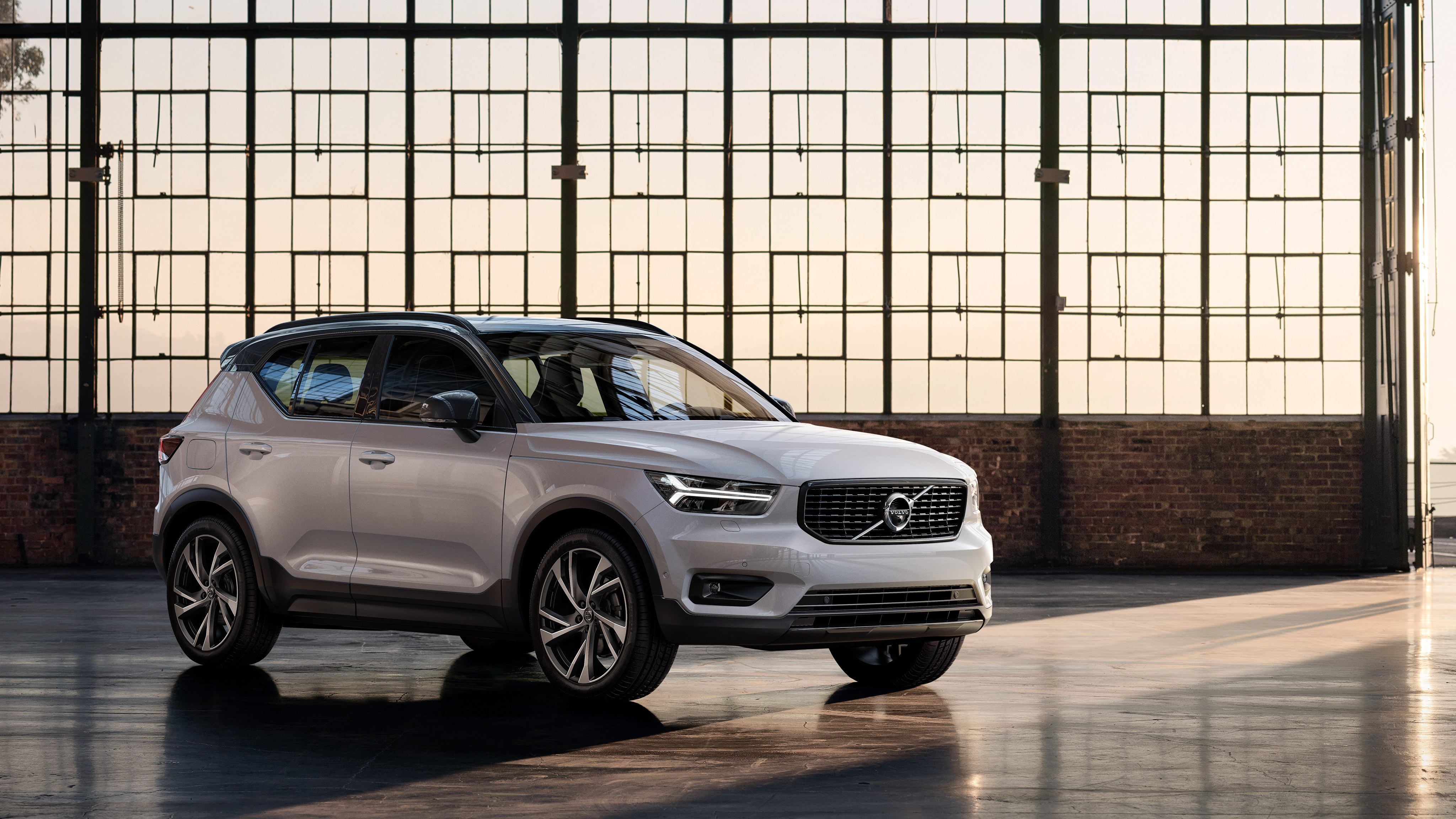 Vehicle Overview
Urbanite SUV aficionados in the Phoenix area will have found their dream car in the new 2019 Volvo XC40 SUV. With all the features of a larger SUV, the 2019 XC40's smaller design makes it perfect for city living and it will be available early in 2018 at Courtesy Volvo of Scottsdale. Locating a 2019 Volvo XC40 near Phoenix is easy; it's as close as Courtesy Volvo of Scottsdale, serving Scottsdale, near Phoenix, near Tempe Arizona. Just a notch below the 2019 XC60, this completely new, smaller crossover model is dedicated to offering sophisticated conveniences and options that place the XC40 in a class of its own. Laptop storage bins, smartphone holders with inductive charging, an integrated trash bin, a vivid color palette and more give this smaller SUV a broad range of appeal. Sophisticated electronics include pilot assist, city safety, cross-traffic alert, a 360 degree camera, and more, making it one of the safest SUV's on the market; an invaluable asset for the busy streets in the Phoenix area. The first models will have a four-cylinder gasoline engine or a 1.5-liter turbocharged three-cylinder. Subsequent models will incorporate the hybrid powertrain. All of these 2019 Volvo XC40 models can be seen and test driven at your local Courtesy dealership serving Scottsdale, near Phoenix, near Tempe Arizona.
Interior - 2019 Volvo XC40
A 12.3-inch digital instrument cluster is standard on the 2019 XC40 as is a 9-inch touchscreen for Volvo's Sensus infotainment system, which has Android Auto and Apple CarPlay installed. Door panels have textured plastic trim and felt lining in their very spacious door pockets. Additional amenities such as an interior trash bin, a cell phone holder, and a space for a box of tissues ensure that the cup holders are used for cups rather than miscellaneous items. Leather seats are available in four colors and can be combined with several metal trim panel options and LED lighting colors for a truly customized interior. Rear seats were designed for adults, the seat belts may be too high for youngsters, and the 16 cubic feet of configurable storage provides room for lots of equipment and cargo. Audio speakers utilize air woofer technology enhanced by smaller tweeters and the redesign of their location has enhanced the storage capacity of this innovative and eye-catching vehicle.
Exterior - 2019 Volvo XC40 near Phoenix AZ
The 2019 Volvo XC40 retains the "Thor's hammer" tail lights and running lights but the trademark grille has been redesigned. Oversized wheels are an option, but this innovative SUV has an 8.3-inch clearance with the standard wheels installed. Seventeen color combinations for body paint and roof paint enable a uniquely customized appearance, especially when combined with the oversized wheels. Two-toned paint is an option on this beautiful and sporty SUV. An uplifted hatch in the rear provides an aerodynamic and sporty look to this uniquely designed SUV and enables easy access to the roomy cargo area.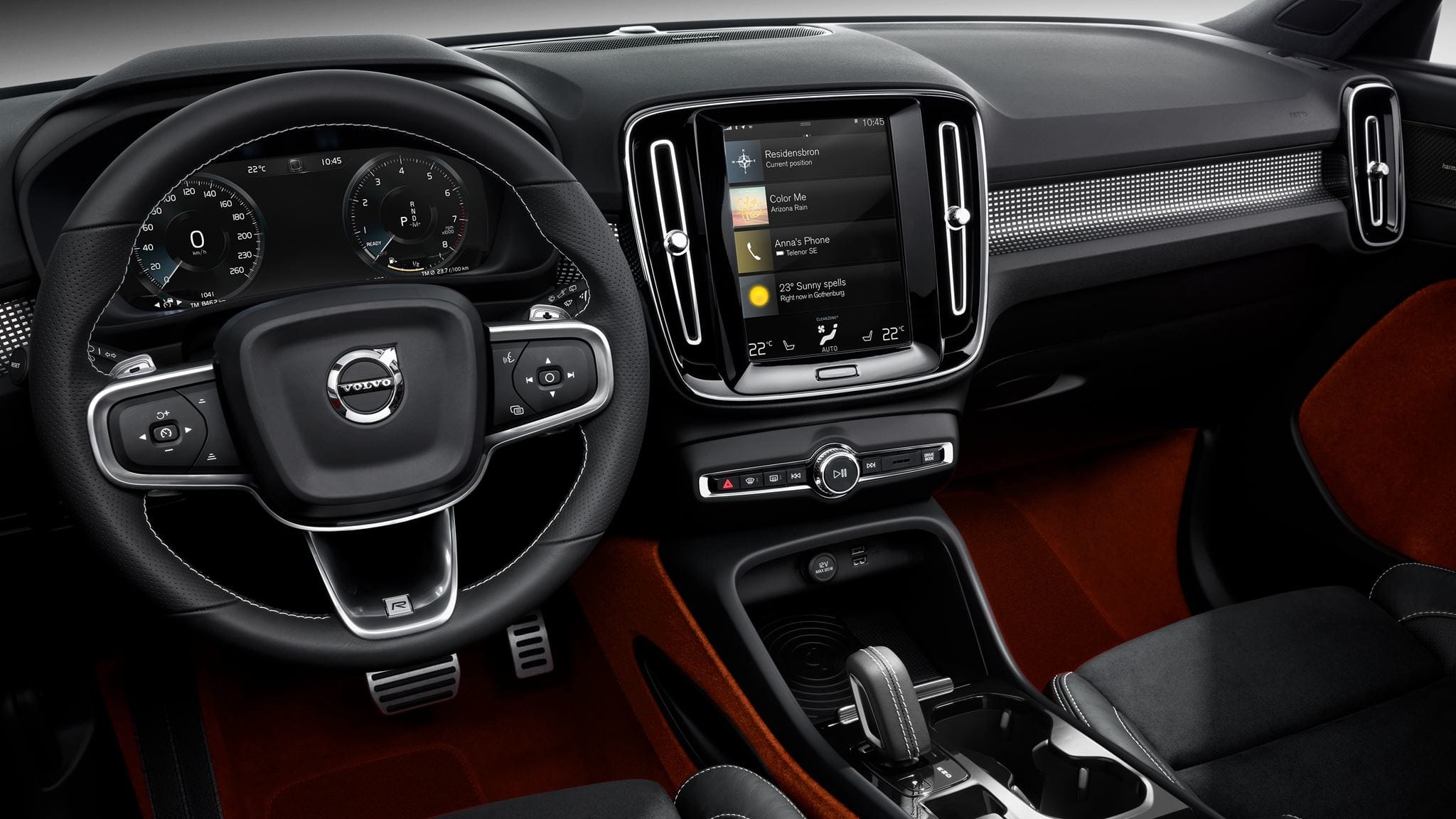 Mechanical - Volvo XC40 specs near Phoenix AZ
More powerful vehicles in this compact series from Volvo will have T5 engines, which feature a hybrid powertrain with a plug in; less powerful engines will be the inline-3 with either a T2 or T3 designation. Diesel variations are on the drawing board but are available only overseas. The T designates a turbo engine and the number indicates the number of cylinders in the engine, so a T2 is a turbo-charged two cylinder, and the T3 is a turbo-charged three cylinder engine, which is unusual.
Powertrain - Volvo XC40 specs near Phoenix AZ
Initially, this innovative SUV will be offered as an all-wheel-drive T5 model, with a 2.0-liter turbocharged inline four. Shortly thereafter, a front-wheel-drive T4 model will debut. An inline-three, a plug-in hybrid, and an electric version are on the drawing board. U.S. customers will have an 8-speed automatic transmission, there is no option for a manual transmission at this time.
Safety - 2019 Volvo XC40 dealer
Passenger safety has been at the forefront of design for this innovative SUV. Automated braking in an emergency and pedestrian detection have been integrated into the collision-avoidance system, as is oncoming-lane mitigation. This feature automatically steers the car back into the correct lane in the event that oncoming traffic is detected. Pilot assist isn't completely autonomous at this stage, but can be invaluable during long drives. Pilot assist works at speeds less than 81 mph and the collision avoidance works at speeds up to 40 mph. Rear cross traffic alerts will automatically apply the brakes if a vehicle approaches when the SUV is moving in reverse. Semi-autonomous drive will be available in the future and will include 360-degree cameras.
Acquisition
The debut of this stunning SUV has revolutionized the standard methods of acquiring a vehicle with their innovative subscription program. Acquiring the 2019 Volvo XC40 near Phoenix can be accomplished through a lease, a purchase, or through Care by Volvo, which is a subscription program similar to that of a cell phone provider. No down payment is required for a subscriber and the price includes insurance and maintenance. Volvo is still finalizing the details, but the contract length could be as little as two years and subscribers may be able to upgrade to a new XC40 after as little as 12 months. If you live in the Phoenix area and you're looking for a 2019 Volvo XC40 near Phoenix, look no farther than Courtesy Volvo of Scottsdale, serving Scottsdale, near Phoenix, near Tempe Arizona.