Volvo is getting it right. They want to be the definition of the Luxury Automobile. They got it right with the XC90 launch in 2016, and since there the entire line up of Volvo's has moved into the 21st century. The XC60 winning the SUV of the year in 2019, the Car of the year with the ground breaking XC40, the silent yet amazing S90 followed by the 2019 S60 (made in the USA). We now have the freshest line up of vehicles. In fact the oldest in our line up is the XC90 and this gets a face lift in 2020.
So with our line up of cars winning awards around the globe and really defining luxury, what else has Volvo been up to. Well this is where it gets fun, in a world were apps have taken over major business's customers expectations have become far higher when it comes to what we can do for them. Volvo never being one to wait, went out and purchased a successful company called LUXE. Why? Well to answer that we need to look at what LUXE offered. The company positioned itself as Car Valet and Concierge Start Up.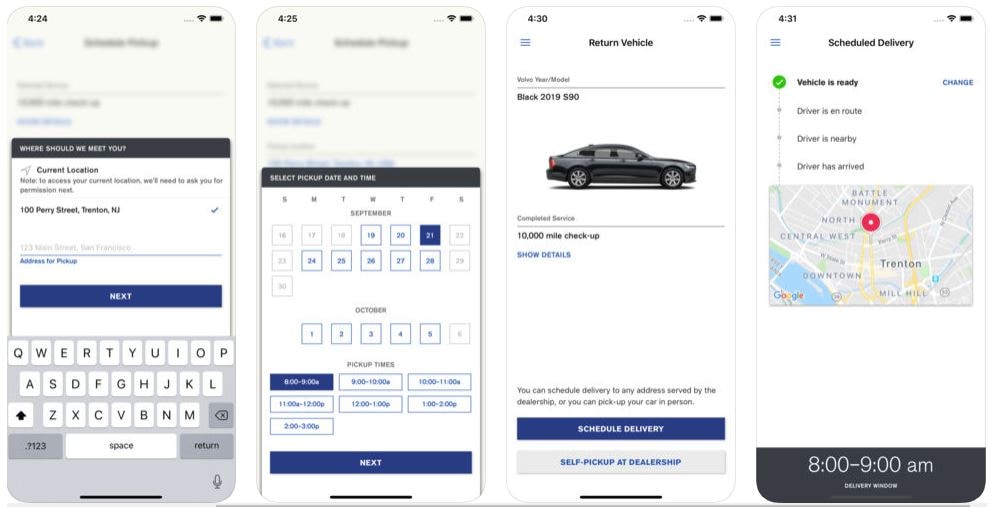 Well Volvo had a plan, and Atif Rafiq - Chief Digital Officer at Volvo Cars stated "
"Our vision is a future in which technology simplifies life so you never have to stop at a petrol station, go to a car wash or even take your car in for service ever again. The acquisition of Luxe is a step towards realising that ambition. I look forward to working closely with the highly talented team at Luxe who created its advanced technology from the ground up". Sounds good but what does that mean for us as Volvo owners. Well the good news is that since this Volvo has been working with Pilot dealers to test a pick up and drop off service through what they have branded VOLVO VALET. What exactly is Volvo Valet? Well for that let's use the words straight out of Apple Apps. If you read below you can see exactly what the App offers. You can use your Android or Apple phone to schedule service, and the team will pick up your car- drop off a loaner and you can see the entire process on your app - UBER style. You can see the loaner arrive, communicate with the Valet driver and make servicing your Volvo a truly customer focused experience. Here at Courtesy Volvo Cars of Scottsdale we simply cannot wait to offer this to our customers. This is the level of service we know our loyal Volvo customers cannot wait for. So keep an eye out for Volvo Valet. Hopefully coming soon to your Volvo dealer.
THE VOLVO VALET APP - how it works and what it does from Apple App Store.
The Volvo Valet app makes maintaining your Volvo easier than ever. You can schedule service, arrange for pickup and delivery, and even request a loaner, all from your iPhone. Service is performed by Volvo trained technicians, using the latest procedures, specialized tools, and Volvo Genuine Parts.
Requesting maintenance is easy—here's how it works:
– Just open the app, and schedule a Volvo driver to meet you at your home or office at the time you choose.
– Want a loaner while your Volvo is at the dealership? No problem—you can request a loaner with a single tap.
– The app uses your location and vehicle information to correctly schedule service at any nearby participating dealership.
– You'll see your driver's picture and track their arrival on a map, receiving real-time updates as they're en route.
– Once you and your driver exchange vehicles, the driver will take your Volvo to the dealership and begin maintenance.
– When the maintenance is complete, you can schedule delivery and monitor the driver returning to meet you with your newly serviced Volvo.
We want to help make maintaining your Volvo free of inconvenience. Volvo Valet gives you more flexibility and more of your time back.
Here is the LINK to the Volvo Valet App in itunes
Here is the LINK to the Volvo Valet App for Adroid Phones in google play