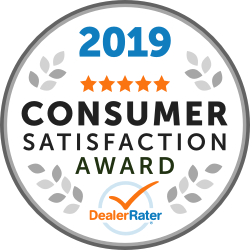 DealerRater Recognizes Courtesy Volvo of Scottsdale with a Consumer Satisfaction Award
Dealership among the top auto dealers in the U.S who demonstrate excellent customer service, as rated by online consumer reviews

Courtesy Volvo of Scottsdale has been awarded a 2019 DealerRater Consumer Satisfaction Award, an annual recognition given to auto dealerships that deliver outstanding customer service as rated by online consumer reviews. DealerRater, the world's leading car dealer review website, created the Consumer Satisfaction Award program to let online car shoppers instantly spot dealers that provide high-quality customer service.

Consumer Satisfaction Awards are given to the top 10 percent of U.S. new-car dealers based on their PowerScore™, as well as top independent and Canadian dealerships that receive at least 25 annual reviews and maintain a minimum average PowerScore™ rating of 4.0 out of 5.0. The PowerScore™ is determined using a Bayesian algorithm that factors the dealership's average DealerRater consumer rating and the total number of reviews written about the dealership during the 2018 calendar year.

"We'd like to congratulate Courtesy Volvo of Scottsdale and all of our Consumer Satisfaction Award winners," said DealerRater General Manager, Jamie Oldershaw. "DealerRater's extensive review database allows shoppers to identify dealerships that are providing excellent customer experiences, and it's clear that Courtesy Volvo of Scottsdale stands out amongst its peers in the U.S."

Courtesy Volvo of Scottsdale has achieved consistently high scores on the DealerRater website, placing it among the top dealerships nationwide. Online shoppers visiting Courtesy Volvo of Scottsdale's dealer page will find a "2019 Consumer Satisfaction Award winner" badge on their profile to instantly recognize it as a high quality dealership. "We are thrilled to be earning this reward, as a new to the area dealer, we love the fact that our customers took the time to share their experience." Says Jason Church General Manager at Courtesy Volvo Cars of Scottsdale.
DealerRater features more than four million dealer reviews, and has a reachable audience of more than 32 million car shoppers each month. "Our awards program was more competitive than ever this past year, with thousands of dealers across the U.S. and Canada competing to win our coveted Dealer of the Year award," says Oldershaw. "The Consumer Satisfaction Award is one way for today's shoppers to instantly recognize quality customer service regardless of brand or region."
About DealerRater Founded in 2002, DealerRater, a Cars.com Company, is the world's leading car dealer review website that connects consumers with the right person at the right dealership. The site offers nearly 5 million sales and service reviews across 42,000 U.S. and Canadian dealerships, including a network of more than 5,000 Certified Dealers. DealerRater content has a reachable audience of more than 32 million consumers across the web each month. By offering a product suite that allows qualified dealerships to manage their reputations and achieve higher SEO rankings, DealerRater supports new customer connections by growing online presence.
Courtesy Volvo Cars of Scottsdale is a family owned dealership and part of the Courtesy Automotive Group. This family owned business started in Phoenix in the Valley of the Sun on the corner of 12th Street and Camelback. Since that day the family has always been a part of the Courtesy day to day business, and famous all over the state for its retro Courtesy Arrow that graces Camelback with a look to the past and brings to life the meaning of locally owned businesses working closely with families through the generations. Courtesy Volvo of Scottsdale was opened in August 2017 at the new Scottsdale Autoshow complex on the corner of Indian School and the 101 highway.