BLACK FRIDAY, the words bring up images in ones mind. For most shoppers it brings back scenes on the new with crowds pushing to get into the electronic store, or lines outside the latest toy store. Well times have changed, the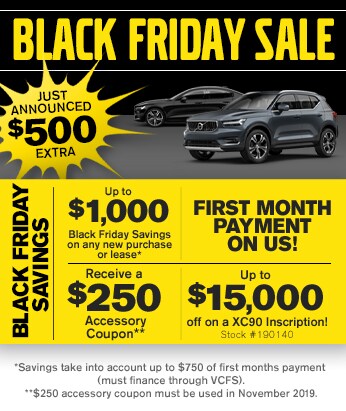 Toy Store is out of business, and Black Friday sales happen earlier, even on Thanksgiving, but begin sooner with online retailers offering savings sooner, and Black Friday Sales event all through November. The one day sale has become a huge phenomenon. For car dealer this has also happened. Car Giveaways, Buy one Get one Free, $1000 gift cards, and the list goes on and on. This year at Courtesy Volvo - we wanted to offer you the chance to Enjoy your Thanksgiving, and come and enjoy our Black Friday at your leisure, we open at the normal times, and have the entire sales and service team ready to help you.
So what is the offer - simply put; The Volvo factory team has come to the sale with an additional $500 Black Friday Rebate. In addition they are offering to make your first lease or purchase payment up to $750, and lastly Courtesy is offering with every New and Certified Pre-Owned a $250 Accessory Coupon.
That is on top of the incredible savings through November - with up to $15,000 off MSRP, and Leases starting from $299 a month. For more details please visit our Black Friday Sales Event page with all the latest. Or simply click on the link below.