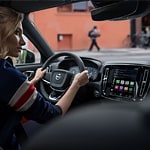 The Volvo XC40 remains a textbook example of a compact luxury performance SUV with outstanding safety features. Refined enough for formal occasions, the Volvo XC40 also stands up to everything that daily life in Scottsdale has in store for you. That explains why its safety features are so dynamic. Take a look.

Get it Directly From the Cloud

Wouldn't it be great if motorists ahead of you could leave pertinent info about traffic and road conditions just for you? Volvo just made it possible. It's new cloud-based communications give connected Volvo drivers the opportunity to get real-time traffic data that's shared and received via other connected Volvo drivers.

Stay in Your Lane

Drifting out of your lane is an unfortunate but possible fact of life. In the past, this scenario always ended badly. That's why our Courtesy Volvo Cars of Scottsdale team is so excited about the Volvo XC40's lane departure warning system. It deploys haptic vibrations of the XC40 steering wheel, alerting you to unplanned lane changes. If necessary, the system may also offer gentle steering corrections to help you navigate back into the center of your lane.