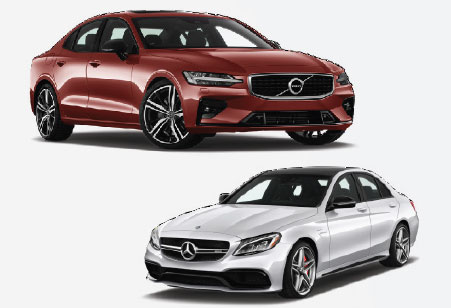 Do you have a customer looking for a luxury performance sedan with more than 350 hp? Starting at under $50,000 USD, the S60 Recharge gives drivers the most horsepower per dollar and outperforms the Mercedes Benz C43 AMG!
Performance
• The S60 Recharge has the C43 beat in power and performance with 400hp and 472 lb-ft of torque. That's +15 horsepower and +88 lb.ft. of torque more than the C43 AMG. Add Polestar Optimization to give the S60 an additional +14hp!
• The S60 Recharge accelerates faster than the C43 AMG. With a 0 to 60 mph time of 4.3 seconds, the S60 overpowers the C43 AMG by 0.2 seconds.
Cost of Ownership
In the S60 Recharge, drivers can take control over their driving experience by either selecting pure electric mode which uses zero gas and outputs zero CO2 emissions, or by selecting dynamic mode which unleashes the car's full 400hp and instantaneous electric torque.
• Drive farther and stop for gas less. The S60 Recharge has an EPA rated 30MPG versus the C43's 21 MPG and can drive more than 140 miles farther on a single tank of fuel.
• The S60 Recharge is also eligible for the federal plug-in hybrid tax credit of $5,419. That brings the S60's dollar per horsepower to $105/hp vs. the C43 AMG's $147/hp. More value, more performance.
*Based on comparison of MY21 Volvo S60 Recharge R-Design Expression vs. MY21 Mercedes Benz C43 AMG.
Mercedes information obtained from manufacturer website.
*Annual fuel cost provided calculated by the United Stated Environmental Protection Agency