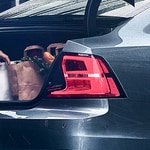 You should consider the Volvo S90 if you're looking for a sedan that's both efficient and capable of handling challenging terrains. All the three trim levels of the S90 come standard with a wide range of high-tech performance features, these include:
• T6 Inscription
• T6 R-Design
• T6 Momentum
Underneath the hood, these trim levels come with the following engine options:
• 316 horsepower four-Cylinder turbocharged, supercharged engine
• 400 horsepower Plug-in Hybrid Engine.
These powerful engine options are mated with an agile eight-speed automatic transmission that makes the Volvo S90 a fun-to-drive sedan with easy handling.

Additionally, the Volvo S90 is one of the most fuel-efficient sedans of its class in the Volvo lineup. The wide range of engine options and powertrain combinations opens up the Volvo S90 Sedan to cater to many driving needs.

Moreover, the Volvo S90 comes fitted with an AWD drivetrain; hence it can easily navigate the harshest terrains, bends, and bumpy roads.