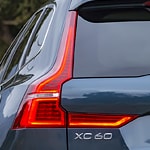 When it comes to versatility and utility, Volvo XC60 SUV is the best. The SUV's interior is brightened by a panoramic sunroof, which adds to the SUV's sleek, elegant look. A power tailgate makes it easier to get into the trunk when loading or unloading the vehicle.
The muscular front fascia of the Volvo XC60 is complemented by the revolutionary LED Daytime Running Lights. When compared to traditional lighting, LED lights use less power and have a stunning visual effect that contributes to its exterior aesthetics and masculine demeanor.
The Volvo XC60 is highly adaptable and the most versatile of its class. It comes in a variety of colors, including Black Sapphire Metallic, Polished Bronze Metallic, Crystal White Pearl Metallic, Pearl Grey Metallic, Ice White Pearl Metallic, Midnight Blue Metallic, and Deep Sea Blue Metallic, all of which have a sporty and sleek aspect to them on the surface.