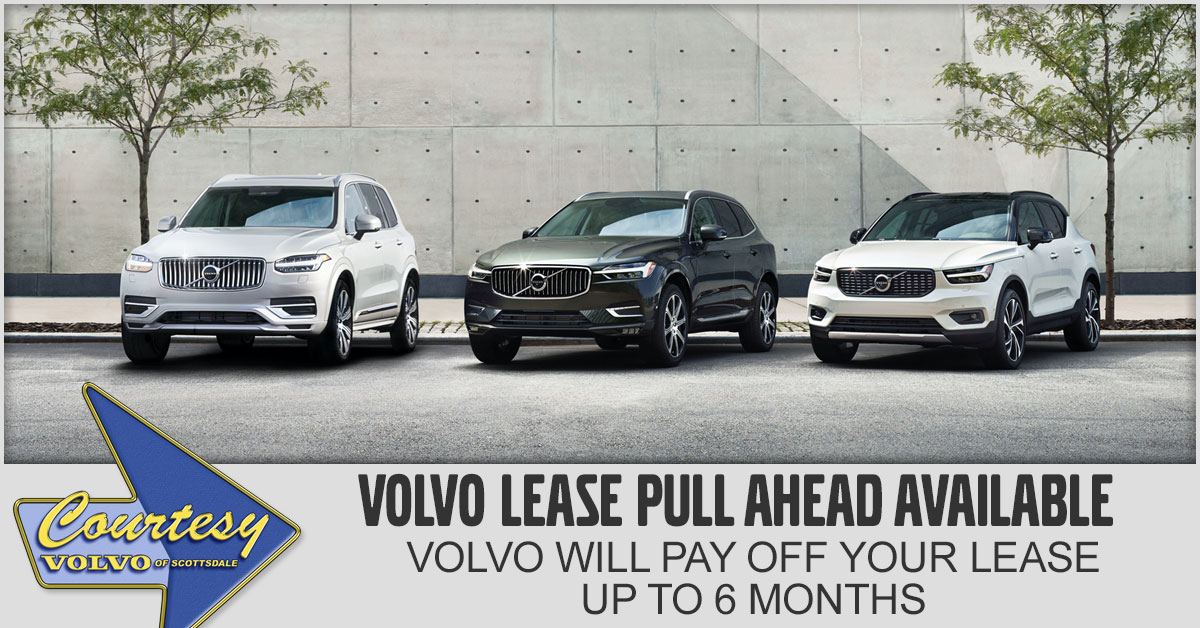 Volvo Car Financial Services (VCFS) is pleased to announce the launch of our Lease Pull Ahead Program. This program invites lease customers that have 6 monthly payments remaining on their lease to return their vehicle prior to the maturity date when they lease a new Volvo through VCFS. Eligible customers qualify to receive a waiver of up to 6 monthly lease payments on the existing lease as well as a waiver on the lease disposition fee.
Below are a few reasons you may want to take advantage of the program:
You're ready to get into a new vehicle.
You would like a lower monthly payment.
You exceeded or close to exceeding your annual mileage plan.
You're interested in driving a different model in the Volvo line-up.
You had a lifestyle change and your vehicle needs are now different.
Following is a summary highlighting the key points of the VCFS Lease Pull Ahead Program:
The program is offered to customers with 6 or less remaining payments on their lease on all S60/S60CC, S80, V60/V60CC, XC70, V90/V90CC, S90, XC40, XC60 and XC90 Volvo models.
All VCFS lease accounts are eligible (Model Year 2019 vehicles are excluded).
U.S. Bank lease accounts are not eligible for this offer.
For eligible customers, VCFS will waive up to 6 remaining monthly payments and the $350 vehicle turn-in fee (disposition fee) when customer leases a new vehicle through VCFS.
Payments already made on a lease account cannot be reimbursed, for example if a customer has two (2) remaining monthly lease payments, their maximum benefit under this program is two (2) payments.
Customer's account must be up to date to qualify. Any past due payments would disqualify customer from program benefits.
When a customer turns in their vehicle they are still responsible for excess wear and use, excess mileage, and any other obligations, e.g., personal property tax, if applicable.
Offers subject to change. See Courtesy Volvo Cars of Scottsdale for details.
Frequently Asked Questions
How are the payments waived from my account?
Upon completion of the
lease turn-in
, VCFS will close the customer's account using the Lease Pull Ahead Program. Both the remaining lease payments and the turn-in fee will be removed from the customer's account prior to VCFS mailing the End of Lease invoice to the customer.
Will I receive any End of Lease charges from VCFS after the retailer completed the VCFS Pull Ahead Program lease turn-in?
Yes. A customer will be invoiced for excess mileage, excess wear and use (EWU), and remaining taxes in states where personal property tax is applicable.
Is a retailer required to purchase the turned-in vehicle in the VCFS Lease Pull Ahead Program?
No. The vehicle will be offered in the V360 program as usual under Iteration 1 - 3. Retailer purchase of a vehicle is not linked to the VCFS Lease Pull Ahead Program

I have equity in my current leased vehicle. How does the VCFS Lease Pull Ahead Program apply when taking advantage of the trade equity?
In order to roll over positive trade equity into the customer's new lease, the retailer would complete a Lease Payoff (Iteration 0) as usual, which will eliminate all further customer obligations on the traded lease, including remaining payments. The VCFS Lease Pull Ahead Program would not be applicable on a Lease Payoff as there would be no remaining payments to waive.
I have 12 months left to my scheduled maturity. Can the retailer use VCFS Lease Pull Ahead Program to take me out of my lease early?
No. This program is exclusive for customers with 6 or less remaining payments. A customer with 12 remaining payments would appear as a "No" in the Payoff Quote Tool and thus, would be ineligible for the VCFS Lease Pull Ahead Program.
Do I need to lease a new Volvo before I turn-in my lease?
Yes. In order to be eligible for the VCFS Pull Ahead Program, the retailer is required to enter the VIN of the new vehicle (replacement VIN) leased through VCFS. The new (replacement) VIN will be validated and must be an active VCFS account prior to waiving the remaining payments on the returned vehicle. Therefore, it is critical that the retailer enters the new (replacement) VIN accurately to avoid a delay in the closing of the your prior lease account.