Unplug and play.
Our First Pure Electric SUV
THE NEW, 2021 ALL-ELECTRIC XC40 RECHARGE IS NOW AVAILABLE TO TEST DRIVE
Pure Power
We designed the XC40 Recharge Pure Electric to give you the best experience on the road now, and to protect your future.
Your way
A true urban SUV. Seamlessly connected. Fit for the way you live. It's an XC40 Recharge Pure Electric, recharged to be your most personal driving experience.
Feel good
The XC40 Recharge Pure Electric is a carbon emission-free yet powerful driving experience. Made for you, and the world we share.
Play safe
Experience a compact pure electric SUV that supports and helps protect what's important. So you can stay safer and enjoy the ride.
Available in 8 Colors








Discover More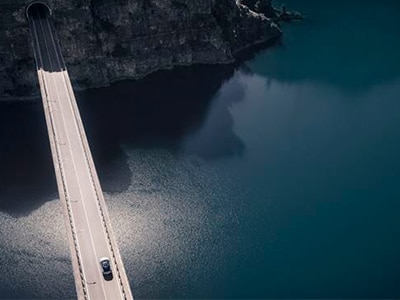 Pure power
402 hp. 0-60 mph in 4.7 sec. 2,000 lb towing. No carbon emissions while driving. With the XC40 Recharge Pure Electric, you don't have to compromise anymore to drive in a more sustainable way.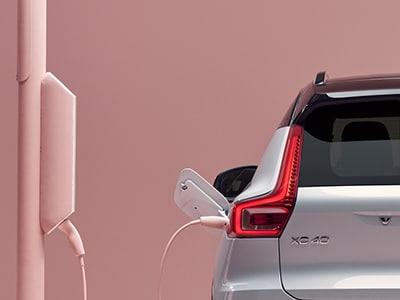 Unplug and play
A large 78 kWh battery with a projected range above 200 miles* So you don't have to charge it often. And when needed, it can fast-charge from 10 to 80% in approximately 40 minutes**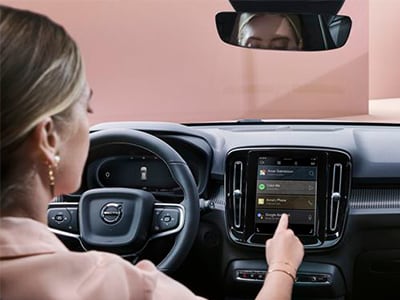 Stay in sync
Google Maps. Google Assistant. Google Play Store. All of it's embedded. Even without your phone, you'll always stay connected on the go.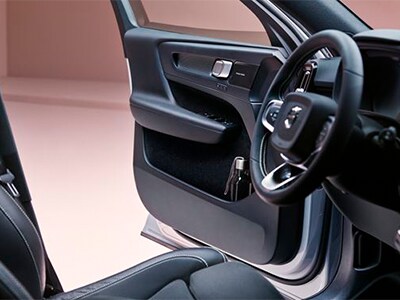 A place for everything
Loads of smart storage for water bottles, gym bags, phones, laptops and more. Including a front compartment for your charging cables. There's a place for every thing - with thoughtful solutions to make your busy life less complicated.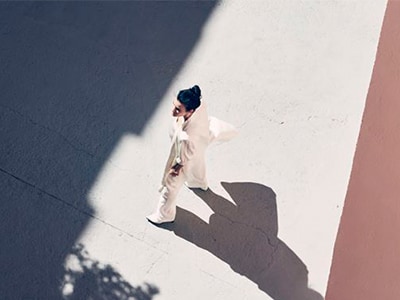 Your digital multi-tool
The Volvo On Call app lets you share the XC40 Recharge Pure Electric with friends or family remotely. Also use it to view the car's charging status, heat or cool your car with remote start, lock or unlock your car, and more.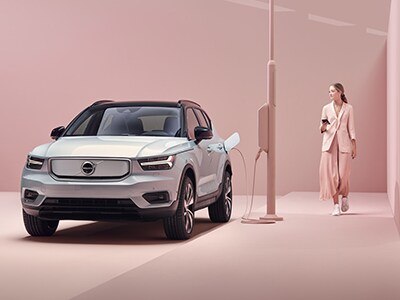 Sharing is caring
Car Sharing comes standard. Invite a friend via your phone, and share your car remotely for a set period. Some things are simply too good to keep for yourself.
What do you want to know about the XC40 Recharge Pure Electric?
How long can I drive before I need to recharge the battery?
The battery has a nominal capacity of 78 kWh. A fully-charged battery gives you a projected range above 200 miles* at mixed driving before you need to recharge. But your real-world range is also affected by your driving style and other circumstances such as outdoor temperature, weather, wind, topography and roads. Other factors that impact range are how much electricity you use for car functions such as heating and cooling of the car. One way to improve range, is to pre-condition your car during charging. You can also add a heat pump that saves valuable energy.
But on a daily basis, you will probably charge the battery whenever the car is parked where charging is possible - be it at home, at work or in the city. So range should not be an issue for everyday driving provided that you have good access to charging.
*THIS IS NOT BASED ON EPA TESTING. 200-mile combined driving range rating. Based on EU WLTP testing under controlled conditions for a new vehicle. Your range will vary depending on driving conditions, how you drive and maintain your vehicle, battery-package/condition, and other factors. **Fast charging DC up to 150 kW. Charging times will vary and are dependent on factors such as outdoor temperature, current battery temperature, charging equipment, battery condition and car condition.
What charging times can I expect when recharging at home?
The charging time for the upcoming XC40 Recharge Pure Electric depends on the charging equipment you use and the electric installation at home. The standard charging cable with a household connector is primarily an auxiliary cable and not recommended for regular charging. Charging an empty battery to 80% with this cable takes approximately 24 hours depending on market. For regular and considerably shorter charging times at home, we recommend you use 3.5 kW or 11 kW charging cables. These cables give charging times of approximately 18.5-5.5 hours respectively. But for the most efficient and integrated home charging solution, we recommend the Volvo Cars Wallbox. This powerful 11 kW, 32A installation will give you approximately 5.5 hours charging time (from empty to 80%) or 35 mile range per hour. More information on purchasing the Volvo Cars Wallbox and arranging in home installation will be available shortly. When charging at stations outside your home, the most probable situations are that you will top off the battery during shorter periods of time, for example from 40% to 80% (11 kW AC gives around 35 mile range per hour). And on longer trips, you may charge the car using fast-charging DC stations. At a 150 kW DC charging station you can charge the battery from 10% to around 80% in approximately 40 minutes (or around 50 miles range in 10 minutes). Just enough time to take a rest and have a meal. Please note: Charging times will vary and are dependent on factors such as outdoor temperature, current battery temperature, charging equipment, battery condition and car condition.
How much does it cost to charge the battery of the XC40 Recharge Pure Electric?
The cost for electricity varies depending on local conditions, but the cost can be lower compared to gasoline. The typically lower operating cost is also one of several reasons to switch to an electric car. And for even lower costs, you can can arrange for charging when energy rates are the lowest, often at night.
Can the battery be replaced?
If the battery needs to be replaced, this can be done just like any other technical part of the car.
How much can I tow with the XC40 Recharge Pure Electric?
We believe you should be able to drive pure electric without compromising on everyday versatility. That's why the XC40 Recharge Pure Electric allows towing up to 2,000 lb.
2021 Volvo XC40 Recharge Comes to Scottsdale and Phoenix, AZ
Volvo's all-new all-electric powertrain maximizes thrills while minimizing its carbon footprint.
The internal combustion engine isn't headed out to pasture anytime soon, but it's becoming abundantly clear that the future of the automobile is electric. And what better innovator to lead the way than Volvo? As the Swedish automaker continues towards its goal of a 50% electric lineup by 2025, the all-new Volvo XC40 Recharge P8 is the first major leap forward in that direction.
History in the Making
Volvo has long been on the leading edge of alternative energy vehicles, beginning in 2013 with the release of the V60 PHEV wagon. The V60's plug-in hybrid powertrain would eventually evolve into the highly lauded T8, a prodigious twin-charged gas/electric powertrain good for 400 horsepower and 472 pound-feet of torque. Available across Volvo's lineup on models like S60, S90, XC60, and XC90, the T8 variant has been renamed "Recharge" for the 2021 model year. However, Volvo has something even more exciting for its XC40 subcompact crossover.
Exhilarating Emissions-Free Performance
The Volvo XC40 Recharge equips two electric motors, one for each axle, powered by a 75 kW battery pack. With its immense output (408 horsepower, 487 pound-feet of torque) and relatively small size, the XC40 Recharge delivers impressive power-to-weight performance, achieving a swift Volvo-asserted zero-to-60 sprint in just 4.7 seconds. The fully electric XC40 also boasts an emissions-free range of more than 200 miles. And with a 150-kW D/C fast charger, the battery can be filled 80-percent in about 40 minutes.
New Powertrain, Same Volvo Experience
As with the rest of the XC40 lineup, Mesa and Tempe drivers can expect versatile, luxurious accommodations enhanced by a wealth of premium amenities. For more information and to schedule an appointment to experience the Volvo XC40 Recharge for yourself, please reach out to Courtesy Volvo Cars of Scottsdale at your convenience. It will be our pleasure to assist you.