A-Plan Pricing. Discover transparent, negotiation-free pricing.
In addition to receiving transparent, negotiation-free A-Plan pricing - the same prices offered to Volvo employees - A-Plan participants remain eligible for most other Volvo offers currently in market. Offers may change, please visit the vehicles page for current A-Plan pricing and offers. With A-Plan by Volvo you can be assured you will receive a transparent negotiation-free price and an additional A-Plan incentive on eligible Volvo models.
How do I generate a PIN?
Visit www.aplanbyvolvo.com. First time users will need to register for the site. To register you will first enter your company's Partner Code and then establish a User ID and Password. Once registered you can click on the Generate a PIN link and follow the instructions. If there is a problem generating a PIN, please contact Customer Care.
How long is a PIN valid?
PINs expire 90 days from at the end of the calendar or 90 days from the date of generation, whichever is greater.
How do I confirm the A-Plan by Volvo price on the vehicle I want to purchase?
You can review vehicle pricing on the Vehicles page. You can also ask a dealer to review A-Plan pricing with you. If you have additional questions, you can contact Customer Care.
Can I purchase or lease my eligible vehicle?
Yes. You can purchase or lease any eligible vehicle in the A-Plan by Volvo program, provided you are a qualified participant. Purchase or lease financing may be obtained at the customer's discretion, from any source.
Can I obtain a vehicle for my business or for another person?
A-Plan by Volvo purchases or leases may be titled in the name of a business. A valid representative of the business must be listed and confirmed by the dealer on the A-Plan PIN certificate.
I'm confused about how the lease agreement was calculated. What should I do?
Ask your Volvo Retailer to walk you through the steps used to calculate your lease.
Am I eligible for other incentives?
Yes. A-Plan by Volvo participants are eligible for retail incentives in effect at the time of the purchase or lease. There are some offers that are not compatible with the A-Plan by Volvo program. Your Volvo Dealer can best determine which incentives you are eligible for.
May I purchase a used vehicle, retired service loaner or dealer demonstrator on the A-Plan?
Certified Pre-Owned vehicles are eligible under A-Plan and have an offer specific to that type of purchase. dealer demonstrators, and service loaner vehicles are not eligible for purchase or lease under the A-Plan by Volvo program unless they are purchased under the Certified Pre-Owned A-Plan offer.
What vehicles are eligible for the Plan?
For a list of eligible vehicles, go to the Vehicles section. All Volvo vehicles are generally eligible, with the exception of a select few new models. Vehicle eligibility is determined at the time of purchase or lease. Exclusions are subject to change, so please verify eligibility on the web site from time to time.
What may happen if I don't follow the Plan's rules and abuse my privileges?
Disregard for the rules of the new A Plan by Volvo program is a serious matter. Violations of the plan rules as described in this document can result in:
Being suspended from participating in the Plan
Facing other disciplinary action up to and including termination of employment. (Volvo Employees Only)
How long is the A-Plan program in effect?
There is no effective expiration date for this program, however, Volvo Car USA reserves the right to modify the program, remove eligibility, or cancel the program at any time.
Information I've been given elsewhere conflicts with the rules in this document. What should I do?
For clarification of Plan Rules, contact the Volvo Car USA A-Plan Manager with your concern.
Pricing and Incentives
The Volvo Car retailer is required to provide customers with negotiation-free A-Plan pricing when requested. Detailed A-Plan pricing can be found in the "Vehicles" section on the A-Plan website. Customers should also receive a completed and signed A-Plan PINs and Pricing Agreement showing each item and its price. Do not sign the form if it is blank, or if you do not understand how the price was calculated. All added items must be documented on this form, including bonuses/allowance and retailer-installed equipment.
Trade-in Allowance
The A-Plan by Volvo program does not govern the value of customer trade-in vehicles. Over allowing on a trade for the purpose of providing an indirect discount to A-Plan pricing is prohibited. If a retailer is found to be exercising this practice, they will be suspended or expelled from participating in A-Plan.
Eligible Products
Visit the "Vehicles" section on the A-Plan website to review current vehicle eligibility and negotiation-free pricing.
Some new models or models in limited supply may not be program eligible. Vehicles may be ordered from production or may be selected from the inventory of the retail facility.
Certified Pre-Owned vehicles are eligible to receive a specific A-Plan CPO offer. Please see your authorized participating Volvo Car retailer for inventory and offer details.
The Volvo Overseas Delivery program is eligible to receive a specific A-Plan OSD offer. A-Plan pricing does not apply. Please see your authorized participating Volvo Car retailer for offer details.
Ineligible Products
Retired Service Loaners/Courtesy Vehicles are not eligible for the A-Plan Elite bonus.
Retailer Demonstrators are not eligible for the A-Plan Elite bonus.
Vehicle eligibility is based upon purchase date of the vehicle, not on the PINs generation date.
Volvo reserves the right to make vehicles ineligible at their discretion.
Examples of the savings you'll find: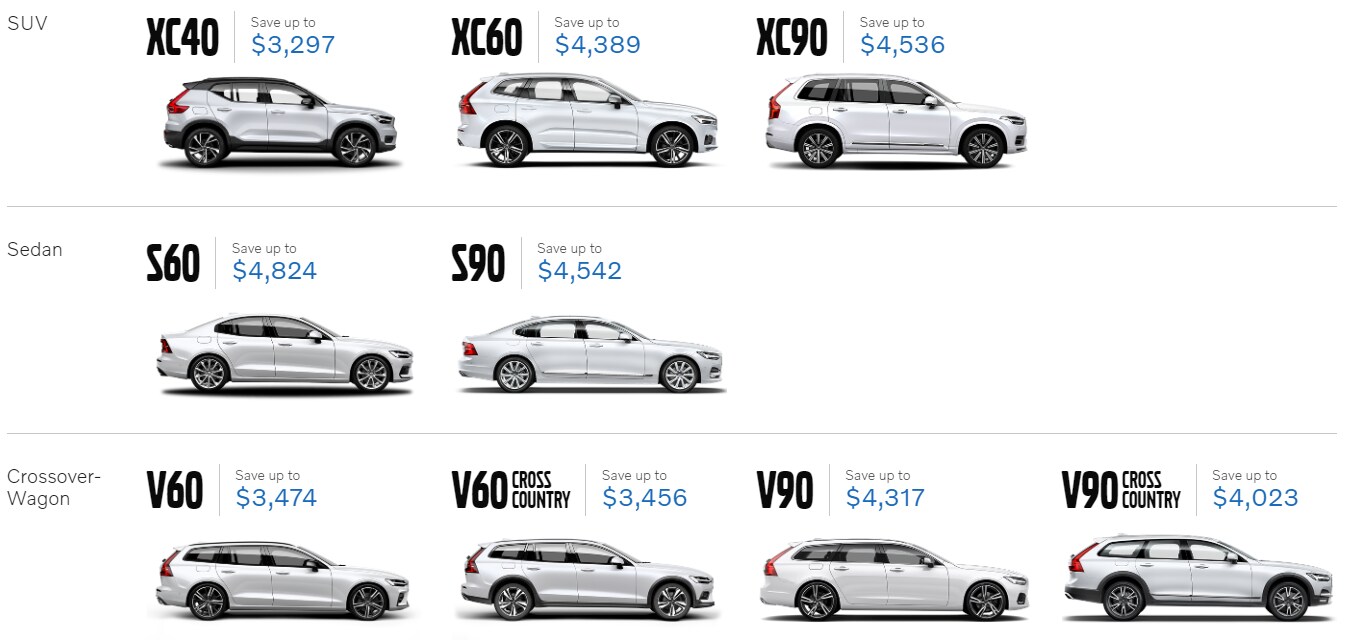 Examples of companies national and local that qualify for A Plan pricing:

University of Phoenix (Active Employees & Faculty)
Arizona State University (Active Employees & Faculty)
Arizona Cardinals Football Club **
Snell & Wilmer **
UTI United Technical Institute **
Arizona Public Services **
Republic Services, Inc. P.F **
Salt River Pima-Maricopa Indian Community
Swift Transportation Corp Inc.
U-Haul - UH089 - Pinnacle West Capital Corp.
Banner Health
WalMart Stores Inc.
Intel Corporation
Honeywell International
AT&T
Verizon Business
Bank of America
JP Morgan Chase
Cardinal Health
American Express Company
Nationwide Insurance Enterprise
Delta Airlines
State Farm Insurance
FedEx
Safeway Inc.
Lowe's
Hewlett Packard
Rug Doctor L P
Apple Inc.
Navy Federal Credit Union (Employees only)
Avon Products
Avon Corporate
Coca Cola Company
Procter & Gamble
General Motors Corporation
Southwest Airlines Company
MillerCoors
Google
Hewlett Packard
Fry's Electronics
Sun Microsystems
Microsoft Corporation
P.F. Chang's China Bistro Inc.
Universal Technical Institute
Best Buy Co, Inc.
Freeport-McMoRan Copper & Gold
Amazon.com, Inc.
Avis Budget Group
Enterprise RAC
The Hertz Corporation
Ford Motor Company
Dallas Cowboys Football Club
Home Depot
Walgreens
** Local Arizona companies or headquarters based in Arizona.

My company does not appear on the A - Plan list? 
If you would like your company to gain access to A Plan Pricing for all of their staff please reach out to Andrew Caron at courtesy Volvo Cars of Scottsdale to see if we can get your company qualified for this exclusive pricing.
---
Program Policies
Customer/ Obligations and Rules
An eligible A-Plan member may purchase the vehicle for themselves or generate a Volvo PINs for family members living in the same household. Providing a PINs to third parties, brokers, buying services, or anyone other than the direct individual is strictly prohibited. Providing a PINs to anyone other than whom it was intended for, including a retailer for any purpose other than purchasing or leasing a Volvo for the intended eligible A-Plan member, is prohibited. If an eligible A-Plan member fails to follow the rules, (including the length of ownership requirement) A-Plan eligibility may be revoked. If after ordering a vehicle under the terms of the new vehicle purchase program the customer cannot take delivery from the designated Volvo Car retailer, the customer must promptly advise the Volvo Car retailer. Volvo PINs may not be sold and/or transferred to anyone. The Volvo PINs may be redeemed by the eligible A-Plan member ONLY.
Dealership Obligations and Rules
Authorized participating Volvo Car retailers agree to comply with all the terms outlined in this document. Authorized Volvo Car retailers are encouraged but not required to participate in the A-Plan by Volvo program. Both the customer and an authorized Volvo Car retailer representative must sign an A-Plan by Volvo PINs & Pricing Agreement, which will identify the eligible A-Plan customer's information, the partner company they are eligible under, the negotiation-free A-Plan purchase price, the price of each retailer-added option, trade allowance and ACV, gifts, and any other allowable fees and taxes. A copy of the A-Plan by Volvo PINs & Pricing Agreement must be provided to the customer and retained with the deal documents.
Document Fees
Volvo Retailers will be permitted to charge their usual and customary documentary fee on each delivery to an eligible purchaser under the terms of the A-Plan by Volvo program unless otherwise prohibited by state and local laws or statutory regulations. Each retailer is responsible for complying with their respective applicable laws or regulations. An A-Plan eligible customer cannot be charged any more or less than any other retail customer.
Financing, Insurance, Titles and Taxes
Purchase/lease financing may be obtained at the customer's discretion. Each vehicle purchased or leased will be covered by the same warranty as those sold to retail customers. The customer is responsible for all federal, state, and local taxes, as well as license and title fees. Non-eligible family members may be co-signers or co-makers of the loan or other financing agreement and may also appear as co-owners on the Vehicle Title or Registration. A-Plan program customers are required to provide their own liability and collision insurance for both purchases and leases.
Cash Due at Signing and Down Payments
All monies listed as Cash Due at Signing Cash Down, Down Payments or monies that are deemed as required as terms of the financing or leasing contract MUST be collected by the retailer. If the retailer fails to collect monies due as defined by the terms of the deal, this will be construed as a discount below the prescribed A-Plan negotiation-free pricing and is therefore in violation of the A-Plan retailer opt-in agreement.
A-Plan Vehicle Ownership/Lease Retention Time and Titling Eligibility is as follows:
Vehicles must be retained in the customer's possession and registered, as outlined above, for at least six months from the date of purchase or lease.
Individuals:
Vehicles must be registered or titled to the A-Plan eligible customer. Non-eligible members may appear as co-signers or co-makers of the loan or other financing agreement and may also appear on the Vehicle Title or Registration. Vehicles also may be registered in the name of a customer's trust, provided that the customer's name is included in the name of the trust (i.e. John Smith Trust).

Commercial:
A-Plan vehicles may be registered or titled in the name of a business (excluding automotive dealerships and their leasing companies). Documentation must be acquired to substantiate their connection and eligibility under the company name. A-Plan vehicles may be purchased or leased for commercial use.
Contact Courtesy Volvo Cars of Scottsdale for A-PLAN PROGRAM PRICING information
Process and Documentation
Sales and Delivery Requirements
The Volvo Car retailer may require the A-Plan customer to make a deposit when placing a vehicle order. Some or all of this deposit may be retained by the retailer, as permitted by state or local laws, if the customer declines to accept delivery of the product as ordered. An agreement in writing should be reached with the Volvo Car retailer concerning the amount of the deposit and the conditions under which it may be retained by the retailer if the transaction is not completed.
Lease transactions may require a refundable security deposit. Terms and conditions of consumer leases are governed by the lease contract. Please refer to the lease contract for complete details.
The retailer may charge the customer any price negotiated (at or above cost) for accessories, retailer-installed options, extended service contracts, and other items or services that add value to the vehicle. Each item must be priced separately and listed individually on the retail buyer's order and the A-Plan by Volvo PINs & Pricing Agreement.

Volvo Car retailers will notify the customer as soon as the vehicle has been prepared for delivery. A-Plan by Volvo customers must accept delivery and make final settlement within a reasonable amount of time after notification by the retailer that the vehicle is available for delivery. Unless otherwise agreed to by the retailer and the A-Plan by Volvo customer, vehicle disposition becomes the sole responsibility of the delivering Volvo Car retailer.
Some images used on the A-Plan program site and marketing materials may not be shown to U.S. specifications, may contain optional equipment, and certain vehicle colors may not be available in the US market. See a Volvo Retailer for details.